These fun Clay Kits TO GO! include everything you'll need to create a super cute clay project AT HOME!!!!.
When your project is complete, return it to the studio where it will dry, get coated with a clear glaze and then be fired.
* We have a no-contact pick up and drop off at the studio.
The price includes EVERYTHING... even tax!
$20 for a one-person kit
$38 for a two-person kit
$54 for a three-person kit
The kit includes:
Step-by-step instructions with pictures
Clay and all of your clay supplies
3 paints per project
Paint brush, water bowl, sponge, and work mat
Current Kits
Owl Hanging
Garden Turtle
Flower Bowl
Pinch Pot (NEW!)
Initial Plaque
Your Choice (see below)
Your Choice Option
This is for anyone who has had experience with clay... You can decide your own project! Let me know what you're aiming for so I can provide a few guidelines to ensure success! Includes .75 lbs of clay and all of the above listed supplies.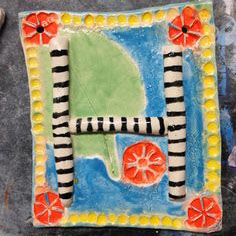 Ready to order?
Name
Cell Number
Project selection
Paint Color Selections (limit to 3 per person and up to 6 per bag)
Requested Pickup Date
Color Chart